Some hikes may not be suitable for inexperienced hikers. Go at your own risk. To go with organized hiking groups see the Resources page
Pounders to Mahakea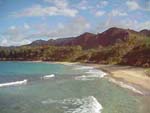 This is a short hike from Pounders Beach to Mahakea Beach. You can go to the other side, which takes about 10 minutes or just enjoy the panoramic view at the top.
Directions: At the end of Pounders beach is a cliff (right of the parking lot). Look for steps on the right of the cliff, which will lead to a clearly marked path. When you get up there you will see a trail leading to the left. The trail will take you through some bushes to the other side. For directions with photographs click here
Laie Hike
Laie hike is a 12 mile round trip hike. It begins with a climb on dry dirt, followed by a walk through Norfolk Island pines and strawberry guavas. About half way up you go down into the valley to a waterfall and pool or keep going through native forest to reach the summit. On a good day you can see Windward Coast and North Shore to Haleiwa. It takes approx. 2 hours to get to the falls and another 2 hours to the summt.
Directions: Go to Naniloa Loop and head toward Hukilau Beach. Turn left at the roundabout on Po'ohali St, which will eventually turn into a dirt road. You will pass a road taking you to La'ie Cemetery and then you'll come to a gate. Past the gate you will see a pump house on the right. As you pass a small bridge you will come to another gate with a sign. Stick to the left and as you pass the sign you will see a clearly marked path. Just follow the markers all the way. If you want to stop at the falls look for the valley going down after going through a bush of guava trees. For a more detailed description see Stuart Ball's "The Hikers Guide to O'ahu". For directions with photographs click here or for a scout map click here
Malaekahana Hike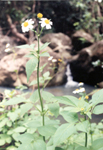 Malaekahana Hike is an 8 mile round trip hike. It takes approx. 5 hours both ways.
Directions: Follow the same directions as Laie Hike until you arrive to the gate with a sign and continue to the right instead of left. The road branches a lot, but as long as you stay on the main road and don't go into any farms you should be fine. If you take a wrong turn and run into a farm just get back to the road. It becomes pretty obvious if you get off the road. After another quarter mile or so there is a silver gate on your left. Go through that gate and continue up on a thinner road that runs parallel to a barbwire fence. Take this road and continue for a while until you get to the trail. There are two places you might lose the trail. The first is where you you leave the fence, about a another quarter mile past the silver gate. Stay to the left and you will start climbing up a red dirt road. This road continues to climb and eventually turns into a trail. It's pretty well marked here. After a couple more miles, maybe 2 hours of hiking you get to a junction. One trail goes to the summit and the other to the falls. Take the one to the falls unless you want to be hiking for the rest of the day. This will descend towards the stream. Once you reach the stream you can head downstream to a small waterfall (about 15ft), pool and place to jump or you can head upstream to a slightly bigger waterfall (about 25ft). If you head upstream, climb up the falls to reach a much larger waterfall (about 70ft).

Wakelele Falls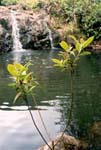 Directions: This hike starts on the road behind PCC that leads to the quarry. As you go along the road the softball feild is on your right and a small gulch is on your left. After a little while there is a chain link gate with a no trespasing sign on your left. Go around the gate and continue up a dirt road with papaya farms on your right and the gulch continuing on your left. Follow this road as it crosses the small stream and continues up in to the mountains. Once the road ends a small trail starts. Follow this trail for about a mile and a half. It crosses the stream a number of times but always goes upstream. Be careful when you cross the stream because that's always the easiest place to lose the trail. After about 40-60 minutes you should reach a nice pool and a small waterfall. For a scout map click here
Aiea Loop Trail
This is a 5 mile loop trail with damp forest, and it comes out of the ridges of the Koolau Mountains, with scenic canyons on both sides. You can see Pearl Harbor below. It is known to be a fairly easy hike.
Directions: Go toward town on H3, which turns into H1. Get off at the exit marked Stadium-Halawa which puts you on Ulune St. Follow Ulune St. for a few miles and at the end of the road turn right onto Aiea Heights Drive. Follow Aiea Heights Drive all the way up along the hill and you will come to Keaiwa Heiau State Recreation Area. Drive past the camping area and you park at the parking lot. The Park is open from 7am-6:30pm. For a more detailed description see Stuart Ball's "The Hikers Guide to O'ahu"
Bus: 55 to Ala Moana, then 11 to Aiea Heights Drive
Judd-Nu'uanu Trail
This is a 5 mile round trip hike or you can just do the loop which is about 3/4 mile and suitable for a family
Directions: Go toward town until you get to Pali Hwy. After passing through the tunnel, stick to your left and get on Nuanu Pali drive. Look for a stone bridge over a small stream before Polihwa place, marked 1931. You can park in the small dirt lot just after the bridge. From the parking lot head down hill toward the stream. Cross the stream and follow the trail. You can stay on the wide trail heading away from the stream, which takes you through bamboo grove, then eucalyptus and Norfolk Pines and eventually joins with Moana trails, which is closed right now, so when you reach Nu'uanu Valley overlook, just head back. This would make an approx. 5 mile round trip. Alternatively you can just do the loop which is about 3/4 mile by heading downstream and around the loop. For other trails in this area and a more detailed description of how to get there see Stuart Ball's "The Hikers Guide to O'ahu".
Bus: 55 to Nuuanu Pali drive
Maunawili Falls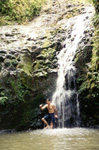 A nice family hike crossing several streams and ending at a waterfall. Takes about 40-50 minutes.
Directions: Go toward town until you get to Pali Hwy. When you get to the intersection instead of taking Pali Hwy. on the right, go left toward Kailua, which is Kalanianaole Hwy. After driving for a few miles, turn right onto Maunawili Rd. which is the first Rd. off the Hwy. Keep following Maunawili Rd. until you get to Aloha Oe Drive on the right. Curved around to the left, then right onto Maleko, which is a dead end. This is a residential area. Park your car and walk down to the trail. Just follow the trail, it is marked well. Just before getting to the falls there will be a sign prompting you to stay on the trail or go down into the valley for the waterfall. Unless you want to be hiking all day, I would suggest going to the watefall and cooling off.
Bus: 55 to Kaneohe Post Office, then 70 which takes you right into the valley to Maleko
Kahanna Valley State Park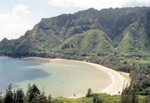 Ancient land divisioin. There are two hiking trails available to the public. Both relatively easy and suitable for the family. There are 10 beach camp sites available with permits. There is a $5 fee per campsite per night. Hunting allowed in designated areas.
Directions: Drive along Kamehameha Hwy going toward Kaneohe. Just after Punaluu, before crossing the Kahan Stream turn right into Kahana Valley State Park. Look for the visitors center (marked Orientation) on the right. Park there and maps should be available for the different trails. For a scout map of the valley click here
Kaena Point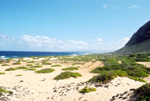 You can reach Kaena Point from both sides of the island, North Shore side or the Leeward side. If you're going from North Shore side, go down Kamehameha Hwy. toward Haleiwa. Go through Haleiwa and when the road forks stay on the right wich turns into Farrington Hwy. Keep going all the way until the paved road ends. Park your car and walk along the jeep road. You can walk along the beach or trail until you get to the gate (there are several trails branching off to the ocean's edge. Just keep following the trail until you arrive to the point. If you're going from the Leeward side (which is a beautiful drive along the coast), stay on Kamehameha Hwy. until you get to Wahiawa. Take the H2, then H1 west and get off at Farrington Hwy. or stay on Kamehameha Hwy. until you reach end at turn right onto Farrington Hwy. Drive along the coast until you reach Kaena Point State Park. The last beach is Yokohama Bay, which has restrooms and a parking lot. Kaena Point from here will take about 2-3 hours. Start along the jeep trail. On both sides you will pass protected sea pools and tidepools. There are no sand beaches past Yokohama Bay, but there are some shallow places on the way to cool off. Close to the point you will see deep caves on the right below the path on the mauka (mountain) side, then a sign welcoming you to Kaena point with some interesting facts and information.
Bus: This is a trip you would probably want to do by car rather than bus, since the bus stop on both sides are quite a walk. You could catch the 52 to Haleiwa Post office, then 76 to Waialua and ride a bike from there. For the leeward side you would need to catch the 55 to downtown Beretania St. then 40 will take you to Makaha surfing beach (I think that's as close as it gets).
Hauula Trails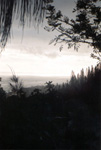 There are 3 hikes that begin at the same location. Two loop trails which are perfect for beginners and families, and the Ma'akua Gulch, which is a more advanced trail and is closed at the moment anyway. The loop trails have good views of Hau'ula and La'ie towns and pass through Norfolk island pines. Both loops should take about 1-2 hours each.
Directions: Take Kamehameha Hwy. toward Hau'ula, after pasing the shopping center look for Hau'ula Beach Park on the left. Turn right on Hauula Homestead road and as it curves to the left, stay straight on Ma'akua Rd. The paved road will turn into a dirt road and if you're driving look for a spot to park around here. You will see signs to the trails and will come to a chain across the road. Go around the chain and the road will keep curving to the right. The first trail you arrive to on the right will have a sign that says Hau'ula trails and is the shorter of the two. If you keep going a little more you will see another sign on the left that says Ma'akua Gulch. The Hau'ula-Papali loop also begins here. Go down on the trail. Right takes you on the Ma'akua trail (don't take this one). Cross the stream and climb on the far side. The trail splits, but you can go either way since it is a loop.
Bus: 55 will take you 7/11 at the bottom of Hau'ula Homestead Rd.
Makiki Valley Loop Trail
The Makiki Valley Loop trail is part of the 11 trails in the Makiki Tantalus complex. It is in good condition and has some good sightseeing on the way. You will also see Norfolk and Cook Island Pines, Kui Kui trees, Avacado (Aug-Oct), Koa Hardwood trees, ginger, eucalyptus, all spice and a variety of birds. It crosses 5 streams and reaches an elevation of 760 feet. It is 2.7 miles (about 2 hours).
Directions:Starts at the Hawaiian Nature Center (mentioned above)
Manoa Falls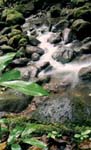 The Monoa Falls trail is about ¾ of a mile, taking approximately 2 hours round trip. The hike follows a small stream along a rock footpath. It is a beautiful hike to the falls. You can see ferns with long fronds growing along the stream bank, Nectar feeding birds, Mountain apples and the overall feeling is very mystical. It is a fairly easy hike and suitable for families, but be careful, especially during rainy seasons. The pool at the end is small, but a nice place to cool down and take photographs.
Directions: Take Kamehameha Hwy. toward Kaneohe. Go down Pali Hwy or H3 which turns into H1 toward Honolulu. From Honolulu get on Manoa Rd. past the University of Hawaii. Keep going passing the paradise park parking lot and the Lyon Arboretum further on to the left. There is a parking lot on the right with a fee, or you can park just at the trail head.
Bus: #55 to Ala Moana transfer to #5 Manoa bus to Paradise Park. Short walk from there.
(include map of area)
Waikahulu Falls
A double waterfall and swimming hole located a few minutes walk from downtown. It is located in Liliuokalani Garden, a 5 acre natural park on the banks of Nuuanu Stream on the north side of Foster Botanical Gardens and China Town. Swimming is allowed, but not recommended due to contamination.
Bus: #55 to School St. Cross Nuuanu Ave. and turn on the second right which is a small side St. leading to the banks of Nuuanu stream.
Makapuu Head
Makapuu Head is a hike up to the lighthouse, seen in Magnum P.I. along a paved path. It has outstanding views along the coast. Great place to watch whales in the winter.
Directions: Coming from Kaneohe along Kalanianaole Hwy passing Waimanalo Bay Beach Park and Makapuu Beach, the highway climbs to the left, past golf course. Look for locked gate leading to jeep road on the left. Park along hwy near gate entrance. Be careful not to leave belongings in car.
Olomana Trail
About 1 ½ climb, view is fabulous. Supposed to call 532-1440 in advance to arrange access.
Directions: From Pali Hwy take first left after hospital, then left again immediately and bear right after the bridge.
Diamond Head Hike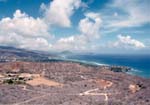 From Trailhead to summit 0.8 miles. Nice view of Honolulu from the top of the crater. (Include map.) For further info see Department of Land and natural Resources Division of State Parks, 1151 Punchbowl st. room 310 (PO box 621), Honolulu Hawaii 96809. Ph. 5870300
Bus: From Waikiki: #58 or #22 Hawaii Kai-Sea Life Park from Kuhio ave. on the beach side. On the way back #58 Waikiki-Ala Moana Center or #22 Waikiki-Beach and hotels
Mariners Ridge
Excellent one and a half hour hike to a Ko'olau pali lookout. Directions: Take Kuluanui st. off Hawaii Kai drive all the way to top
Kaipapau Valley hike
Directions: Coming from Laie, head down Kam Hwy toward Hauula, turn right at the street after KFC which is Kawaipuna st. Go to the end of the road. You will arrive to a private road that will probably be chained off. Keep going until you get to a septic tank and go around it. Follow the trail in the valley until you come to a dry stream. Keep going down the stream until you get to the trail again. Stay down stream. After about 2 hours of trail and stream you will arrive to a small pool and two waterfalls.
Kapena Falls
Coming down Pali Hwy, will pass colorful Chinese consulate on right hand side, passing Wyllie st, going downhill toward Honolulu, a roadside sign will indicate scenic lookout turnoff on the right about half mile past Wyllie st. From this lookout you can see a pagoda and surrounding graveyard. To reach Kapena Falls walk about 100 yard uphill from scenic lookout on pali highway. Before the bridge will see a small hill with a trailhead leading to the falls. 15 feet falls just 5 minutes walk through the bush.
Crouching Lion
Coming down Kam Hwy just before you get to the Crouching Lion Restaurant you will pass a yellow flashing light. In between the flashing light and the next telephone post there is the start to the trail head. It isn't very well defined. This hike is very steep and not recommended for inexperienced hikers, the view is magnificent though. As you begin on the trail you will pass two war bunkers and then to a lookout point. From the lookout point there is two bends until you finally get to the Crouching Lion.
For additional hikes see "The Hikers Guide to O'ahu" by Stuart Ball (Can be found in the BYU-Hawaii Pacific Islands room)